---
---
Smart-Tech® Drum Module
Part No. 34555-01K
 ***** DOES NOT COME WITH INPUT SHAFT *****

*****For racing applications that do not use front band.*****
Sonnax Smart-Tech drum module 34555-01K for racing GM TH400 transmissions improves on-track performance and consistency, leading to quicker ETs, more wins and greater reliability.
The TH400 is preferred for its overall durability and multitude of available ratios, but is known to be heavier and less efficient than the popular two-speed Powerglide. Part of the TH400 inefficiency results from the fact that the direct drum counter rotates, spinning backwards in 1st Gear, brakes to a complete stop on the 1-2 shift, then goes from 0 RPM to input RPM on the 2-3 shift. Significant energy is wasted through this cycle that robs power, upsets traction on the shifts and contributes to broken internal parts.
Compared to aluminum direct drums, the Smart-Tech drum module reduces the weight of the counter-rotating components by over 3.3 lbs! And more significantly, because the weight of the Sonnax counter-rotating parts is closer to the centerline, there is a 53% reduction in energy required to stop and restart during the 1-2 and 2-3 shifts. The benefits are increased wheel horsepower, better acceleration, less shock on the shifts and improved durability.
Complete kit replaces both forward and direct drums and includes everything from intermediate sprag to the pump; a selection of Sonnax input shafts is available separately
100% new content, no used core pieces
Includes larger-diameter, 36-element sprag and sprag race that works with OE intermediate clutches
Includes six-friction forward clutch pack and seven-friction direct clutch pack
Forward Piston Housing
Forward Piston
Forward Piston Return Springs (16)
Forward Spring Retainer
Forward Snap Ring
O-Ring 1.674"
Lip Seals (2)
Direct Housing Assembly
Direct Piston
Direct Piston Return Springs (26)
Direct Spring Retainer
Direct Snap Ring
O-Ring 2.737"
Sprag Shaft
Front Sprag Retainer Plate
Heavy Duty Sprag 36 Element
Outer Sprag Race
Rear Sprag Retainer Plate
Sprag Retainer Screws (4) 6-32 x 5/16"
Quad Ring Seals (2)
Anti-rotation Seal Rings (2)
Drum
Pressure Plate
Outer Snap Rings (4)
Bearing Small
Forward Clutch Hub
Bearing Large
Direct Clutch Hub
Steel Clutch Plates (4) .060"
Steel Clutch Plates (11) .077"
Friction Clutch Plates (13) .080"
Clutch Separators (60) .103"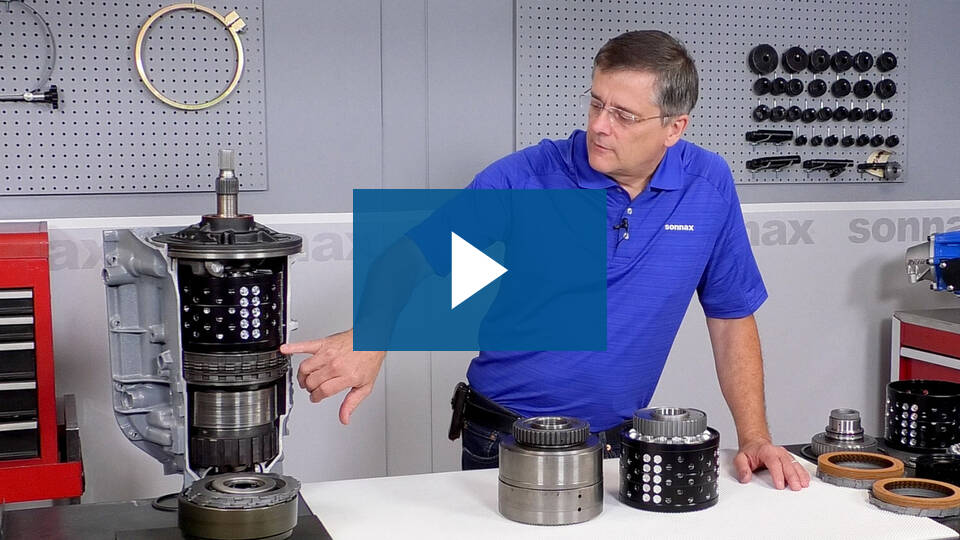 ---