---
---
Sonnax Heavy Duty Forward Drum
Part No. 34554-01
*** INPUT SHAFT NOT INCLUDED***
The ideal GM TH400 upgrade for any power level, Sonnax heavy duty forward drum 34554-01 features a unique combination of high-strength, light weight and a cutting-edge design to optimize transmission performance.
Racing applications quickly push the heavy, cast-iron OE drum over its limits, with failure most common at the weak point where the shaft and drum connect. The problem can be addressed with a larger spline and lighter-weight, aftermarket aluminum drum, but durability becomes a huge issue with wear of the clutch splines, shaft spline connection and seal ring bore.
To dramatically reduce weight and deliver the ultimate in reliability, the Sonnax high-strength, chromoly steel drum is custom-engineered with several lightening features for a low rotating mass. It weighs 3 lbs less than the OE drum and is just 3 oz. heavier than a common aluminum drum. Weight is reduced carefully, without compromising strength, by ribbing the front of the drum, adding clutch splines (28 vs. 14) and lightening holes, plus reducing the diameter inner section of the drum at the middle seal ring area.
This versatile drum upgrade has an oversized 28-tooth shaft-to-drum spline and can be used with a variety of input shaft styles. This includes Sonnax 1" dia., 30-spline heavy duty input shaft 30280-02, Sonnax 1-1/8" dia., 35-spline big input shaft 35280-02 and other aftermarket shafts with 28-spline connection between shaft and drum.
Ultra-modern drum delivers both high-strength and light weight for unrivaled performance at any power level
Compatible with Sonnax and other aftermarket 28-spline input shafts
Optimized for use with rubber clutch separators for applications with clean neutral setups
Clutch spline major diameter is reduced slightly, and two sets of full-length clutch splines added to back up clutch separators
Lightening holes correspond to input speed sensor locations in aftermarket cases for more accurate converter and shift data
Middle seal is eliminated — an aluminum clutch volume spacer kit 34554-11K is available separately for applications in which clutch fill/drain time may be a concern
Sonnax high RPM checkball capsule 57510-01 is installed to eliminate pressure drop at high (5500+) RPM — a common problem with OE and other aftermarket checkballs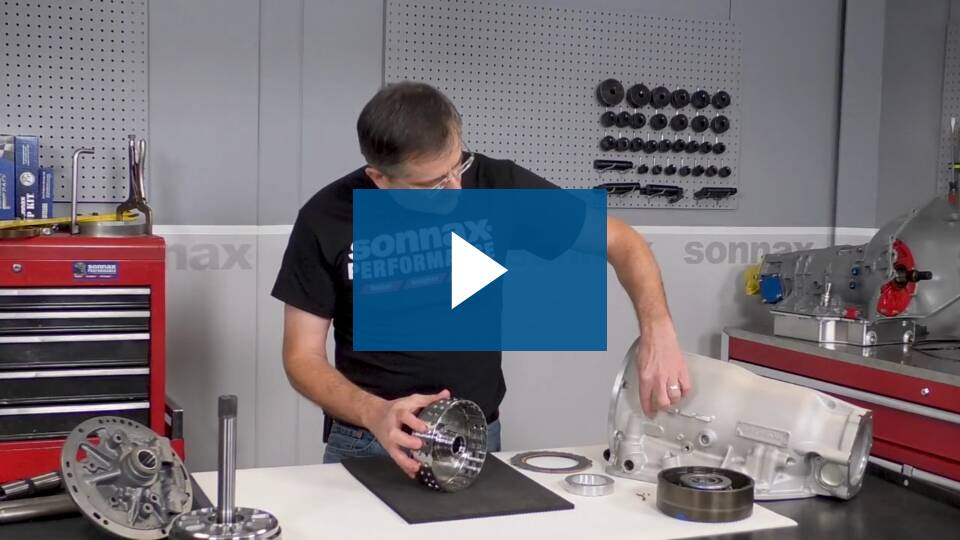 ---